Indoor Only Cat
For a missing indoor-only cat, watch this video:
(Right click to pause this video.)
Here is the first 11 minutes of the Indoor Cat Ecosystem Extraction Training video:
(Watch this video INSTANTLY after payment with 30 days of unlimited viewing.)
And, here is a video on the Chain of Doom:
And, here's a good example one of the shocking things that occasionally come to my attention. This is a completely unethical experiment that someone has carried out due to their profound ignorance of the issues involved. Sometimes even caring guardians do things that leave me shaking and asking, "What was the result of that?" The cats are put into serious jeopardy, but I do learn a lot from these experiments that I would never do. Anyway, what we have here is a situation where someone thought it would be funny to take indoor-only cats out into the Ecosystem and film their reaction. So, we get to see what cats look like as they enter the Chain of Doom.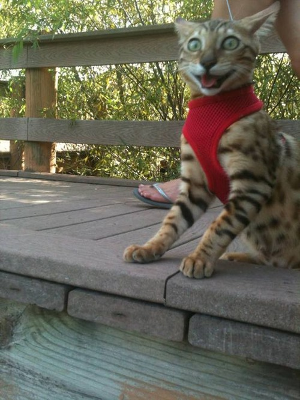 And, if you're fearful of coyotes and want to find out more about those guys, go to the Coyote page: